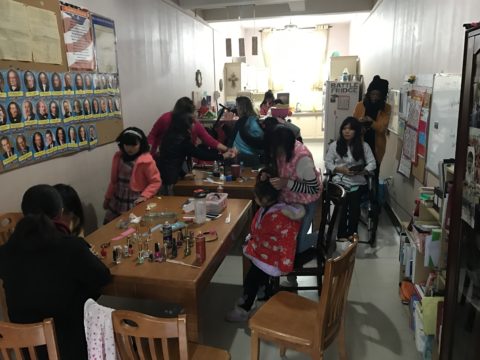 It was a lot of hard work, but such a blessed night we all had. We started off with Michelle and a couple of our volunteers fixing our girl's hair and nails. Actually, it's kind of funny, but we see men have their hair done more fancy than the women here. So, to stay with Chinese culture, we let the boys get their hair done too.
我们都度过了一个美好的夜晚,但是很多的准备工作。从笑笑和一些志愿者给女孩们整理发型和美甲开始。事实上,非常有趣,我们看到的是这里男孩的发型比女生的更时尚更酷。所以,为了适应中国的文化我这里的男孩也整理了发型。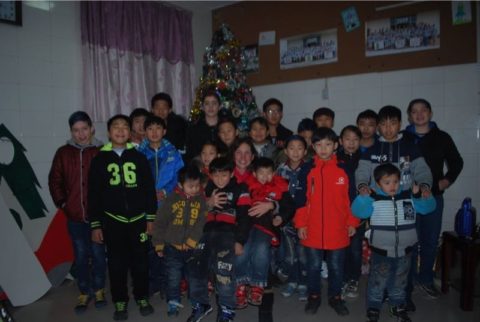 Mommy with her strong boys…all 22 of them!
Mommy和强壮的男孩们、、、全部的22个!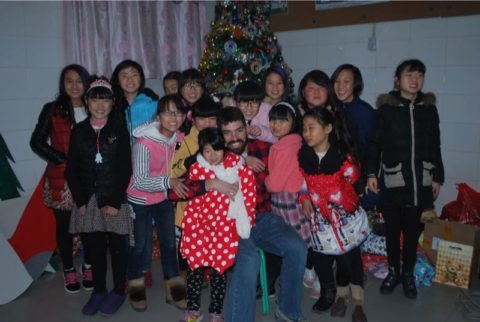 Daddy with his beautiful baby girls…all 15 of them!
Daddy和全部美丽的女孩们、、、15个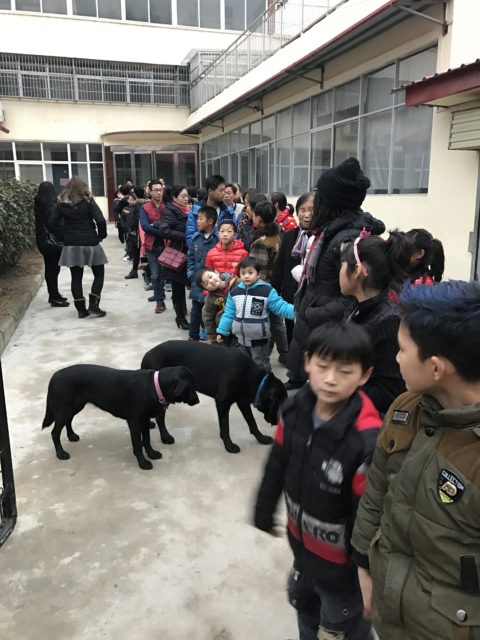 After everyone was beautified, we lined up to walk to the restaurant for our Christmas Dinner! For the first couple years our housemothers cooked a nice meal at our house. However, now that our Christmas party reaches over 70 people (which included our children, staff and friends), we go out to eat!
等到大家都打扮漂亮以后,我们排队一起去到饭店吃圣诞节的晚餐!前几年我们自己做圣诞节的晚饭,但是随着人越来越多快有70多人,包括我们的孩子们,工作人员和朋友,我出去吃饭!
---
Below are some pictures of the kids with their roommates:
下面的是孩子们寝室的照片: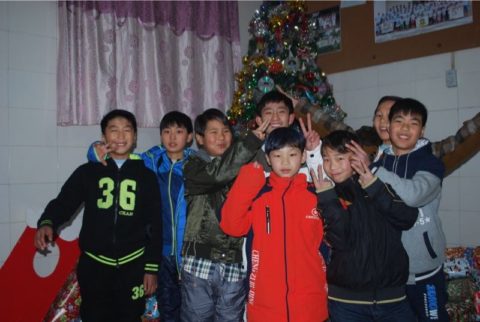 Room 5 boys ranging in ages from 10-12 years old.
五号房间的男孩们年龄在10–12岁之间。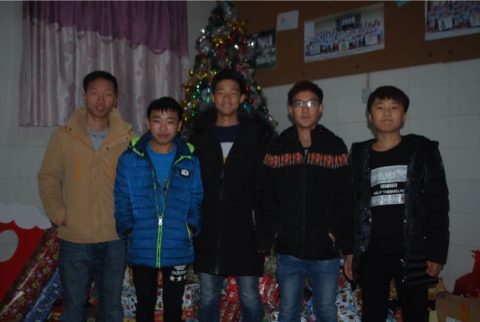 Room 6 boys ranging in ages from 14-15years old.
六号房间的男孩们年龄在14–15岁之间。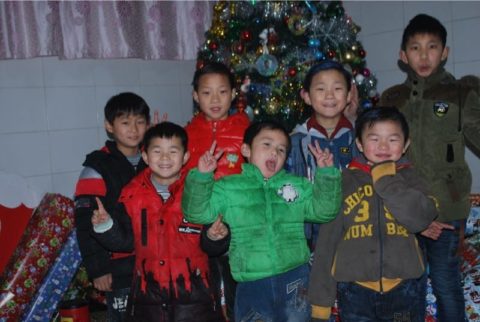 Room 8 boys ranging in ages from 4-10 years old.
八号房间的男孩们年龄在4–10岁之间.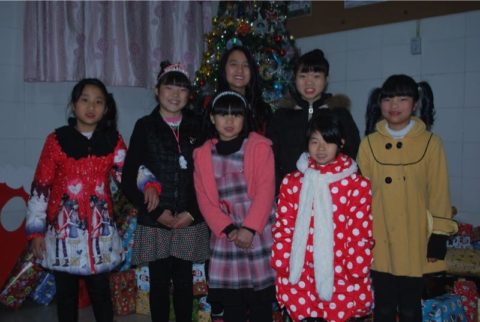 Room 17 girls ranging in ages from 8-12 years old.
17号房间的女孩们年龄在8–12岁之间。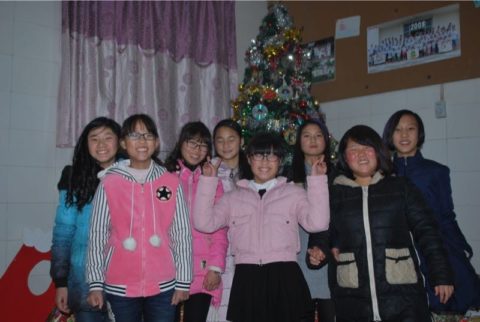 Room 18 girls ranging in ages from 13-16 years old.
18号房间的女孩们年龄在13–16岁之间。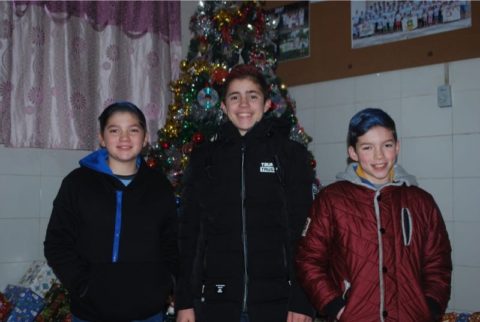 Our boys from left to right: Eli, Jaxin and Tyler.
我们的孩子从左到右以利亚,杰克和泰勒。
---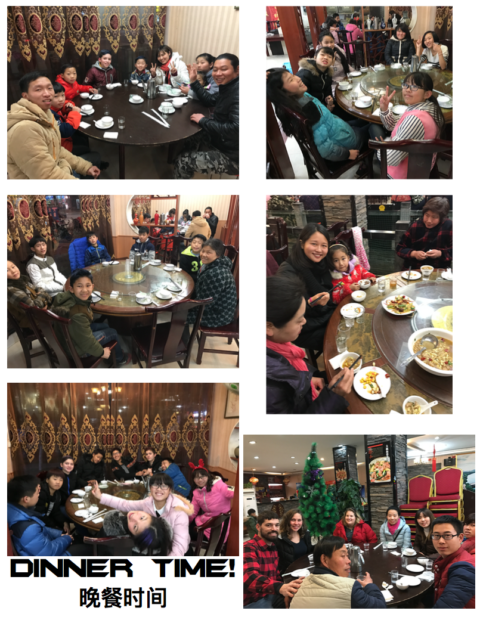 ---
After our wonderful meal and all the pictures were taken, we started our Christmas program. Chinese people love talent shows and are quite gifted. I love no matter where I am, whether it be the park, school, grocery store or even in the hospital, we hear people walking around singing. It just shows no matter where you are in life, nor the trouble that may come, we should have joy!
晚饭和拍照时间过后,到了表演节目的时间。中国人和喜欢才艺表演而且非常有天赋。我很喜欢不管我在公园、在学校、在商店甚至是医院都可以听到他们边走边唱。这表示无论你在怎样的生活境遇中,或许逆境会到来,但我们仍要喜乐的活着!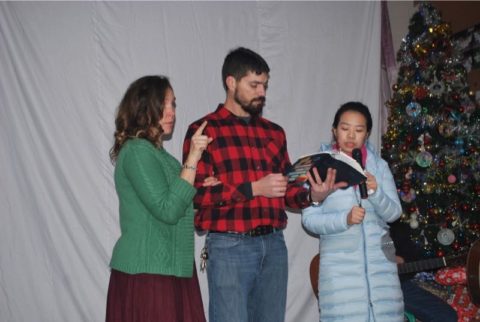 Michelle and I, along with Jessica )who is our translator), read out of the book of John, explaining the reason for the season. Then the Zhang family (our good friends pictured below) brought us a cake and we all sang Happy Birthday to Jesus!
笑笑和我还有我们的翻译,宣读约翰福音,告诉大家过这个节日的原因。接着是老张一家(下面是我们好朋友照片)给我们送来了蛋糕,大家一起给耶稣唱生日祝福歌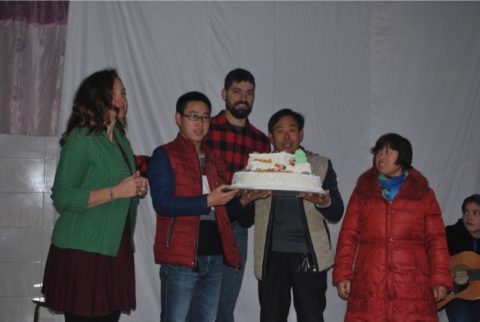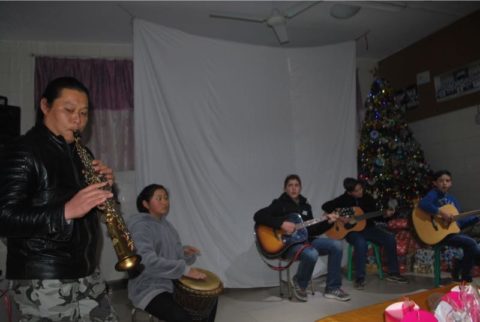 Jaxin, Eli and Tyler, along with their teacher and his daughter, performed "Silent Night".
杰克、以利亚和泰勒和他们的老师带来的节目是,"圣诞之夜"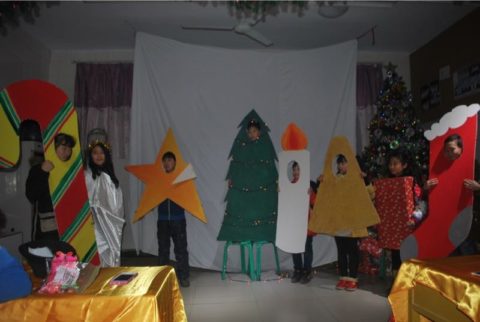 This was followed by our 5th and 6th graders doing a drama about remembering the reason for the season. Each object thought Christmas was about them, until the candle came and shined a light on what each objects true purpose was for.
下面是五六年级的孩子们表演的话剧,意义是谨记过圣诞节的原因。每个角色都认为这个节日是为了他们自己,直到蜡烛的带来使他们明白了这个节日的真正目的。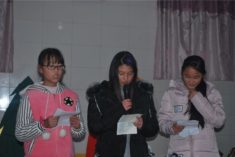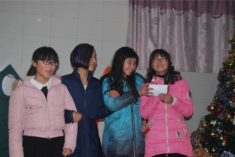 All our kids either sang or danced as you can see above and below.
从下面你可以看到孩子们有的唱歌有的跳舞。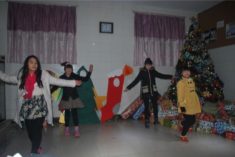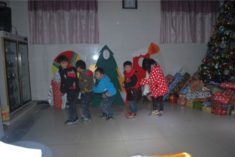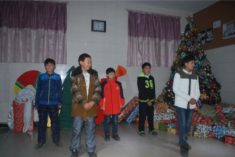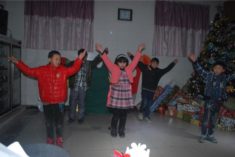 Michelle and I even joined in on the fun by swing dancing!
笑笑和我甚至也加入其中,我们一起跳舞!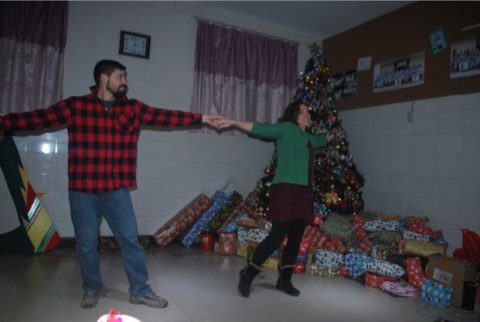 ---
Then, the time that all the kids were patiently waiting for…PRESENTS!!!
接着,全部的孩子们耐心等待着、、、拆礼物
---
Lift Us Up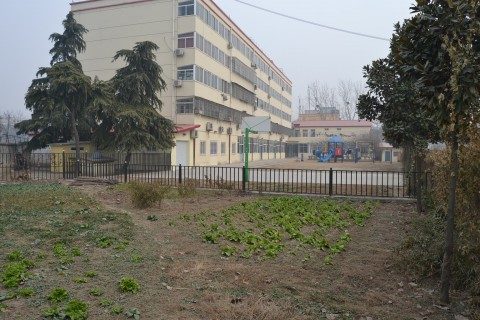 The town of Pingyu wants to become a city. There are several steps that they have to do for this to happen. One of those steps is beautifying our city. One of the beautification steps is redoing the river walkway and enlarging the current lake that sits right behind our home. The bad news about this is that they will be relocating the families around the lake and tearing down their homes. This was not the Christmas cheer we wanted to hear or ever expected to hear. We are now in a scramble to find a place suitable for our home. Below are some drawings from our kids. When our son Eli heard the news, he drew the bottom picture with all the kids. Anna drew the other picture a few years ago when we finished the construction of our new girls wing to our building. Please keep us and all the other families being relocated in your thoughts. As of right now, all we now is that this will happen sometime 2017. One of the troubling things about this is the day before Christmas we heard of a 6 year old boy who needs help and even during our Christmas dinner, we found out about a 5 year old boy who needs help. How can we bring in a child who we promise to care for, for the next 15-20 years, when we don't even know where we will live in 6 months? Please lift us up with this, because the need is great and we do not want to turn away a needy child.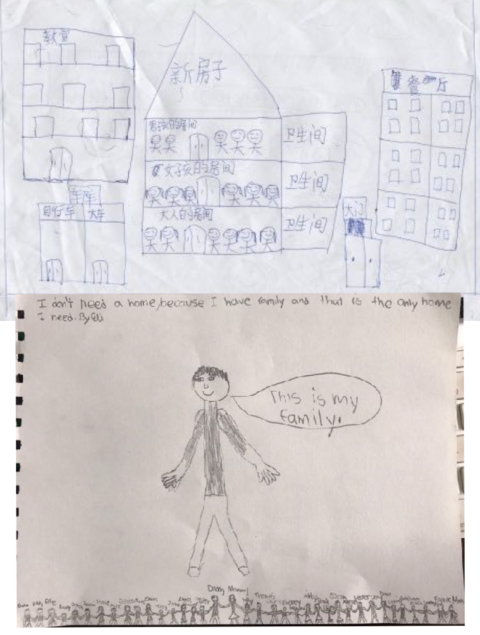 Posted: December 29th, 2016 under Uncategorized.
Comments: none