Happy New Year 新年快乐
The Chinese New Year came quite a bit early this year. It was on January 28th…which just so happens to be on Michelle's birthday!
中国的新年今年来的很早。它在一月二十八号。。。正好和笑笑的生日在同一天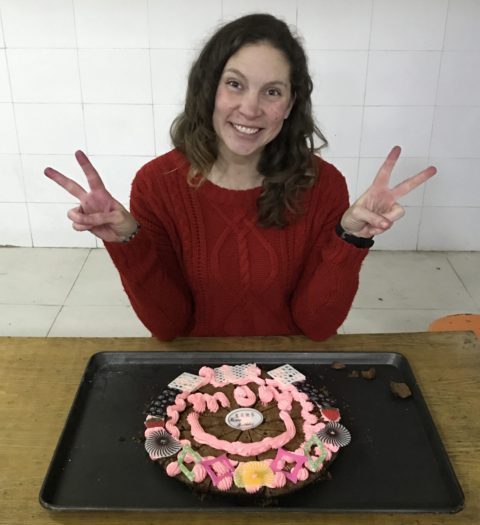 For more birthday pictures, please click HERE.
想看更多的生日照片,请按 HERE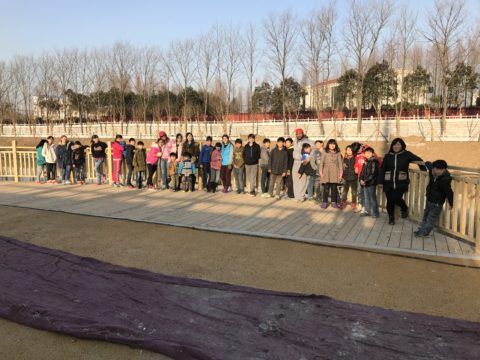 During the Chinese New Year, the kids get a entire month off school to celebrate. Unfortunately, the schools are afraid of the kids having any free time at all because they say it numbs the mind, so they load them down with so much homework that they have to work on it everyday;( Thankfully, we have 2 tutors at our home to help the kids stay focused and get it finished.
We try to keep our kids as close to their families as possible, so those who have safe enough homes to go back to and have someone who is capable to watch and care for them, we let them go back to their villages for a short period of time.
We enjoy the extra time we have with the kids though and try to fill it with all kinds of activities. Above, you can see us taking a walk on the newly constructed path they are building in our city. Its kind of a bitter sweet thing because though its a very beautiful track, its the same track that is part of the beautification process that is tearing our home down.
春节期间,孩子们有一个月的假期。不幸地是,学校害怕学生假期在学业上变得懒散,所以假期间留好多的作业,几乎每天孩子们都有写作业;(感恩的是,我们有2名家庭教师帮助孩子们集中精力更好地完成作业。我们尽我们的努力希望孩子们与他们亲戚保持联系,所以春节期间,这些孩子们中有亲戚愿意接待他们,及可提供安全住处、有人看护的亲人可以接他们回去过新年。我们也有机会享受与那些没有地方可去的孩子们一个单独的特别的时间。以上,你可以看到我们散步在新建的人行道上。是一件让人既开心又苦恼的,对我们的城市来说它是一条美丽风景线,但它也是我们的家要拆迁的原因。
Below you can see some more activities:下面你可以看到一些活动的照片
---
Street Food小吃
We took the older kids out to see the track at night. While we were out, we saw some street food and bought everyone a snack. Emma and Gene enjoyed their squid on a stick!
晚饭过后,我们带大孩子们出去散步。玩耍期间,给孩子们买一些街边小吃。王子艺和王子昂非常喜欢吃烤鱿鱼。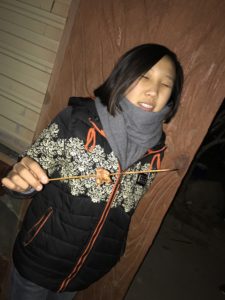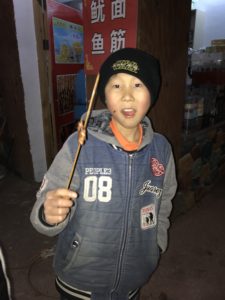 Roller Blading滑冰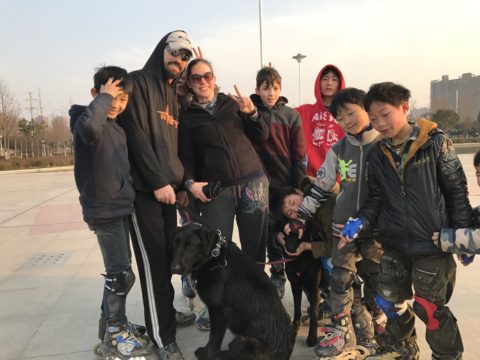 Jump Roping跳绳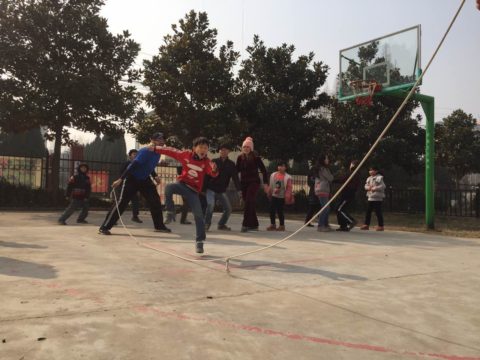 ---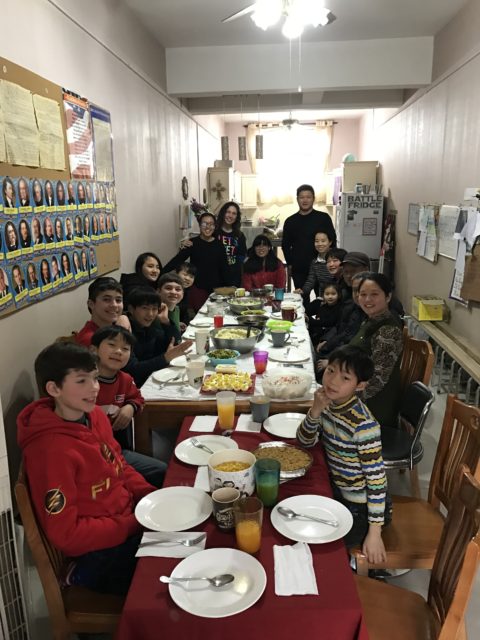 For the kids who don't get to go home, we try to make it extra special for them. They don't have safe homes and or don't have family members who are capable to care for them…or don't have family members at all. Michelle blesses us with many different American dishes the we don't eat normally when everyone is here because there are just too many people. Every New Year, she makes a huge "Christmas size" dinner. To the Chinese, their New Year is as big of a celebration as Christmas is to the Western world. The year Jessica, Shirley, Hazel and Nicky(along with her family) joined us.
那些不能回去的孩子们,我们想给他们一些特别的待遇。他们没有安全的地方可以去、、、也没有任何亲人可以照顾他们。笑笑给我们做了许多美国的饭菜,是一些平时吃不到的,因为平时人太多的缘故。每年,她都会做一顿晚餐"圣诞大餐"。对于中国人来说,中国的新年相当于西方国家的圣诞节一样。今年金华、青亚。花枝和聂贞(和她的家人)和我们一起过新年。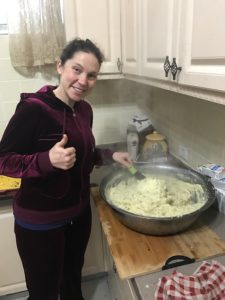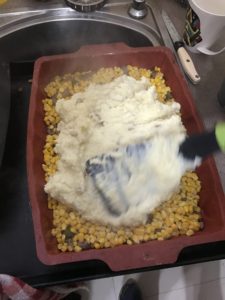 One night she made Shepherds Pie. It was such a hit that we ended up requesting it a couple more times;)
一天晚上她做的美国饭。孩子们非常喜欢已经要求好几次,想吃这个饭。

Hanging the red signs on the door way贴对联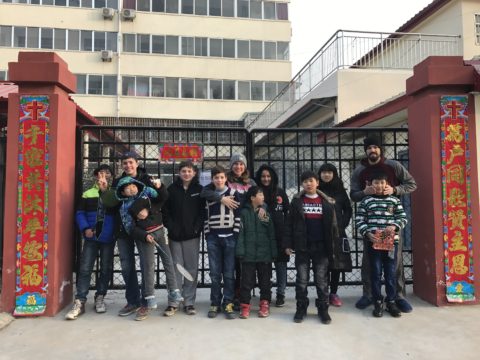 Took them out for pizza!带他们出去吃比萨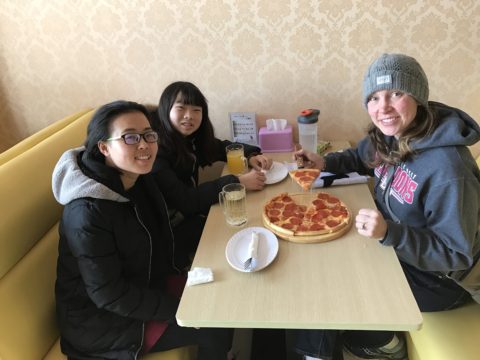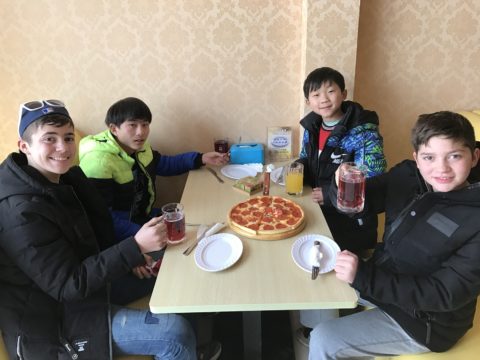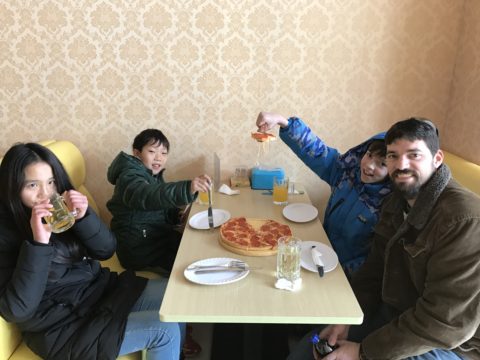 ---
Let it Snow, Let it Snow, Let it Snow下雪吧,下吧,下吧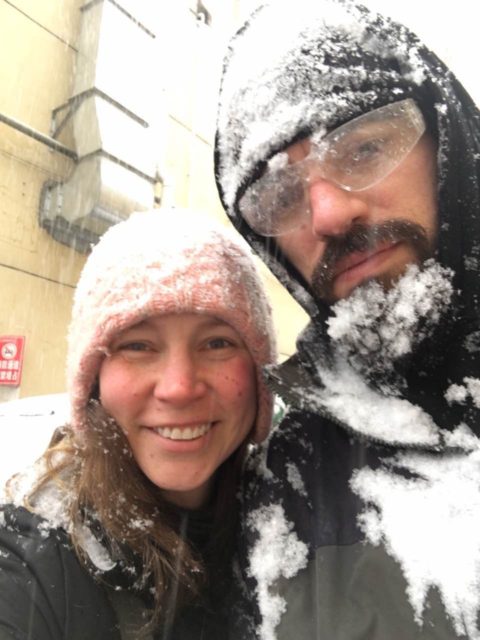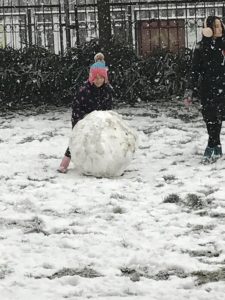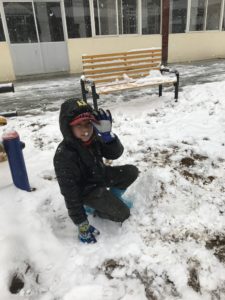 Catina冯秀云 and Joey王宝贵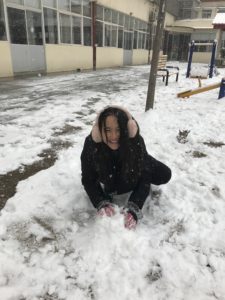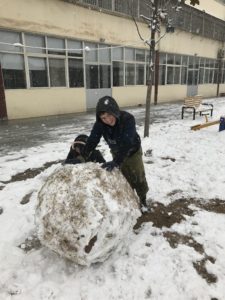 Becca孙双芳 and Eli伊利亚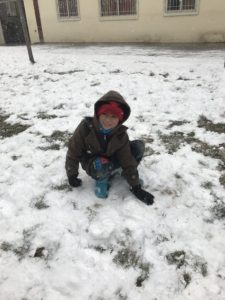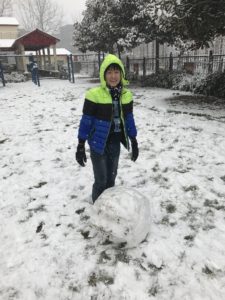 Patch(left)刘银行 and Aaron孙双旭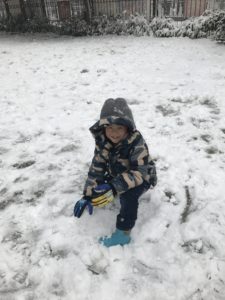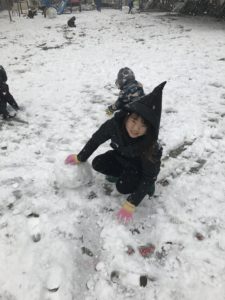 Davey冯金福 and Anna王燕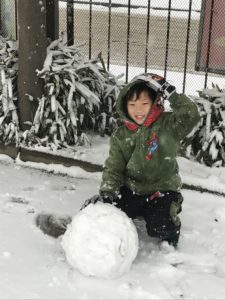 Left to right is从左到右依次是 Jake王国宝, Danny杨新放 and Jaxin杰克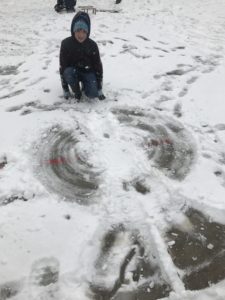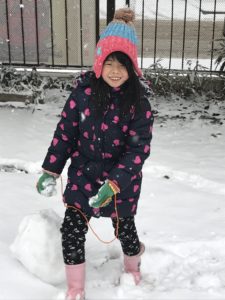 Tyler and another picture of Catina because she is just too cute!
雅各和冯秀云的一张照片,因为她很可爱!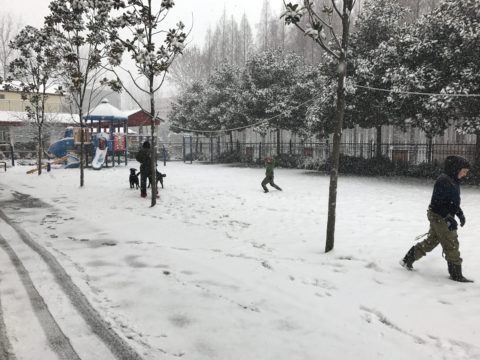 Posted: February 9th, 2017 under Uncategorized.
Comments: none