Pen-Pal Program 笔友大纲
If you would like to correspond with one of the Home of Hope children via e-mail we encourage you to do so.
The children love to correspond with friends in China and from other countries. It is the nature of the Chinese people to cherish and maintain long and lasting friendships with people, once those friendships are made. Friendships usually last a lifetime.
The goal of the Home of Hope is to raise each child to be a well rounded and upstanding citizen of the People's Republic of China with the ability to contribute to this society in a positive fashion when they are finally on their own.
If you do elect to correspond with one of our children, the following are some guidelines we request be followed.
All correspondence must be of a wholesome nature and all incoming mail to the children is screened for content for the security and well being of the children.
Please do not initiate dialogue with the child about their past or how they became orphaned. This will often open old wounds that some of the children are just starting to overcome. In the event the child initiates this subject it is fine to comment on it in a tasteful fashion with good wisdom and discretion.
Please do not discuss things of a political nature with the children.
It is very normal to share hopes and dreams, happy occurrences, sad occurrences, family activities, family and country customs and traditions, holidays, employment and education topics and other items of interest. Pictures are always an awesome thing for the children to receive. Attachments are fine.
If you correspond with more than one child please do not send copies of the same letter to both (or more) children. The children love to show their received letters to each other and "form letter" type e-mail (copies) seems to take the special importance away from the e-mail.
Please do not make statements or promises to the children that cannot be followed through with. Honesty is the best policy in all situations and we request that correspondence with the children maintain this integrity.
The process is as follows:
E-mail received is translated into Chinese by the Home of Hope administrative staff for those children who have not learned to read English yet. The e-mail is given to them in both English and Chinese and they are then allowed to choose whether to reply or not and when to reply. We do not force them to participate but we do encourage them to do so. To date we have realized 100% participation from the children as they are eager to make new friends. For those children who do read and understand English they are simply given a print out of the e-mail in it's entirety including photo attachments if any.
When the child replies to the received e-mail it is translated into English and sent to the originator. If the child has pictures or drawings to send they will be digitally scanned and sent as an attachment with the e-mail.
Please send the e-mail to: ben@homeofhope.org with the child's name and location on the subject line. An example would be…. To send an e-mail to Mark (Zhang Guang Hui), on the subject line include, Mark (Zhang Guang Hui) – PingYu The child will receive the letter as soon as we can get it translated.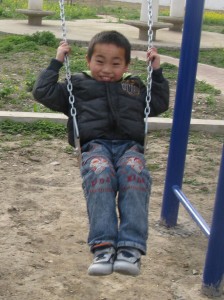 "Hi, my name is Mark and I would like to be your pen-pal. I am 8 years old and in the 2nd grade. I am very outgoing and love to play sports. Please write me a letter so we can become great pen-pals."
"你好我的名字叫张广辉我希望能成为你的笔友,我8岁正在读二年级,我很开朗也很喜欢运动,请给我写信吧我们可以成为很好的笔友。"
We hope your corresponding with our children in this fashion is a joy and delight to you as we know it will be to the children. We get asked a lot if our children can have more than one pen-pal; we do not limit their friends:) Some have 1 pal and others have 2-3 pals. Visit our CHILDREN page to get to know more about our children!
Thank you for your interest in the Home of Hope Children.
The Home of Hope Orphanage
…… where Physical, Emotional, Mental and Eternal destinies are being formed!