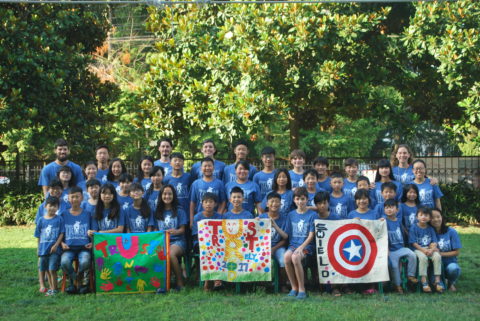 We celebrated our 11th Summer Camp since arriving in China. This is our 8th Camp with our kids!!! We apologize for the length of this post but it will be well worth your time, and we apologize for those apple users as some of the pictures are flipped sideways on apple devices.
自来到中国后过的第11个夏令营。这是和我们家孩子自己一起举办的第八个夏令营!!!抱歉没有及时更新我们的网站,但是,这次是绝对值得大家花时间观看的,还有对于有些图片由于系统的原因,大家多包涵!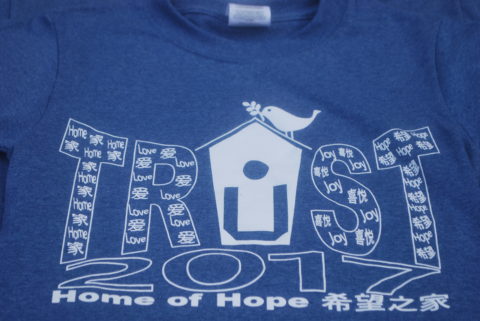 We would like to give a special thanks to the Shirt Shack crew for donating our shirts again this year!我们在此特别感谢今年捐赠夏令营衣服的团队全体人员。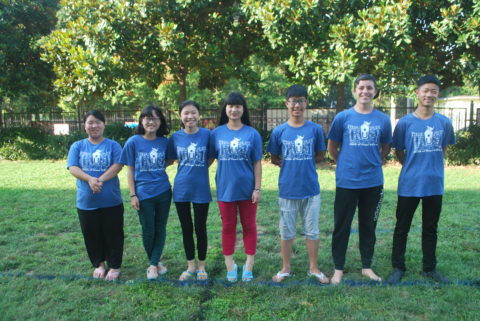 We also want to give a big shout out of thanks to our staff (not pictured) and our older children. The children pictured above and below were our team councilors and captains. They helped get things ready and helped the kids do each of the different activities. This was one of the easiest camps for Michelle and I because they helped out so much. Thanks guys!
同时也大大感谢全体工作人员(图片没放)和大孩子们。上图和下图是我们夏令营的队长和团队顾问。他们帮忙准备东西,亲自参与每个活动帮助有需要的其他孩子。今年的夏令营对于我和小小来说是自开始以来最简单和轻松的一次谢谢大家的帮助!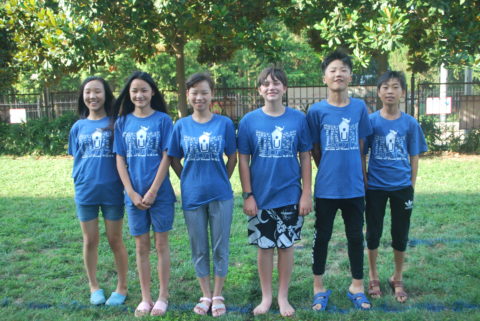 Team RELY信靠队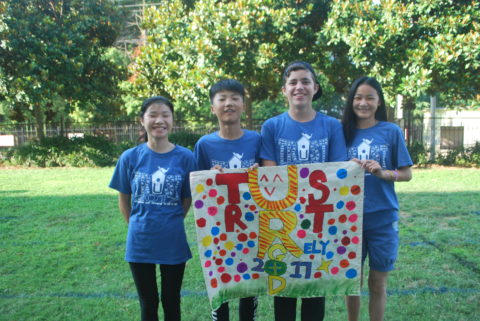 From left to right:Team Councilor Sarah, Team Captain Graham,Team Councilor Jaxin (our eldest son) and Team Captain Ellie.
从左到右团队顾问 叶梦佳,队长 王留旭, 顾问杰克(我们家的老大)和队长冯智慧。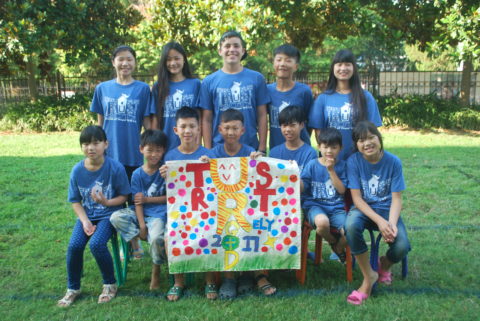 Back Row left to right:Sarah, Ellie, Jaxin, Graham and Wendy. Wendy is one of six kids starting high school and had to leave the camp early to start school.
Front Row left to right:Kelly, Patch, Danny, Gene, Frank, Davey and Dana.
后排从左往右:叶梦佳、冯智慧、杰克、王留旭和孟文迪。文迪是我们六个今年进入高中的其中一个,她不得不提前离开夏令营去到学校。前排从左到右:李明杰、刘银行、杨新放、王子昂、朱雪峰、冯金福和胡杨舍。
Team UNITE团结队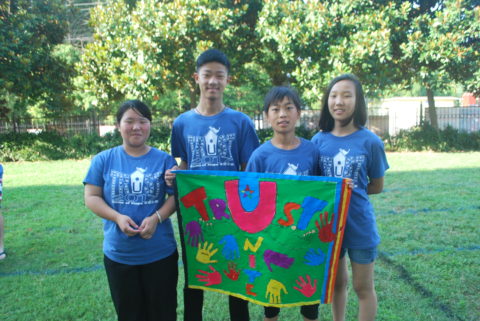 From left to right:Team Councilors Hollie and Gabe. Team Captains Lester and Emma
从左到右:团队顾问张广会和王呈龙。队长孙李和王子怡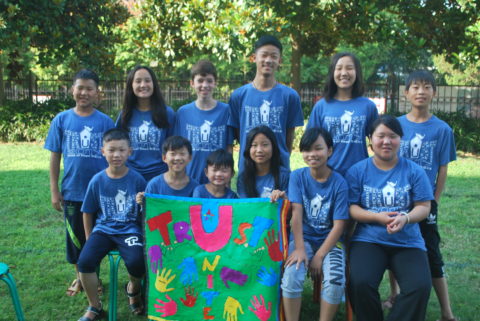 Back Row left to right:Chris, Becca, Tyler (our youngest son), Gabe, Emma and Lester. Front Row left to right: Noah, Joey, Robby, Crystal, Tammy and Hollie.
后排从左往右:张广振、孙芳芳、雅各(我们最小的儿子)、王呈龙、王子怡和孙李。前排左到右:张晨亮、王小宝、李明洋、宋奥珍、李佳曦和张广会。
Team SHIELD盾牌队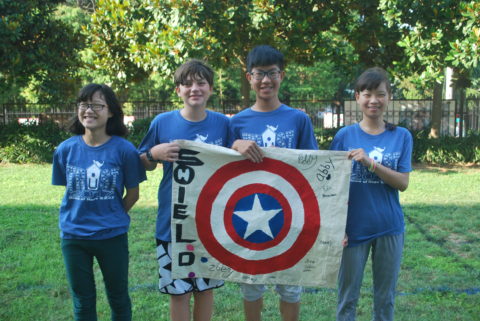 From left to right:Team Councilor Abby, Team Captain Eli (our middle son),Team Councilor Eddy and Team Captain Debbie.
左到右:团队顾问冯静怡、队长以利亚(我们家的老二),顾问郭新和队长郭倩。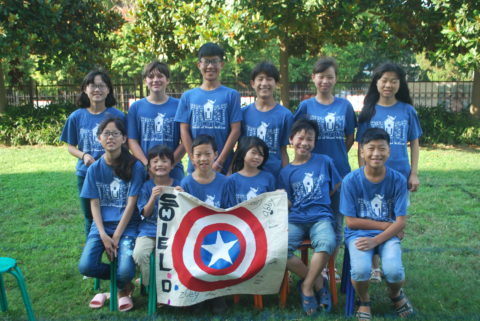 Back Row left to right: Abby, Eli, Eddy, Aaron, Debbie, and Anna.
Front Row left to right: Zoey, Brendan, Jake, Catina, Sammy, and Thomas.
后排左到右:冯静怡、以利亚、郭新、孙双旭、郭倩和王燕。前排左到右:梦雨晴、郭俊祥、杰克、冯秀云、邢恩典和陈新元
---
DAY 1第一天
Day 1 started off with getting the kids into their teams, passing out shirts and decorating flags as you can see in the below and above pictures.
夏令营第一天安排的是所有孩子熟悉自己的队员,分发队服及制作队旗,你可以从上下图片中看到。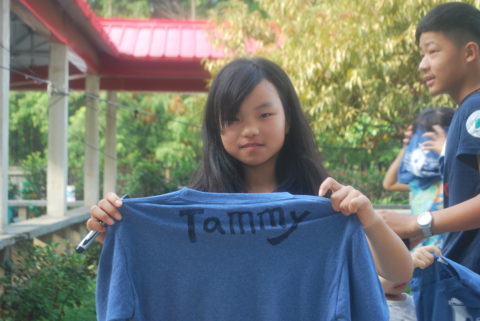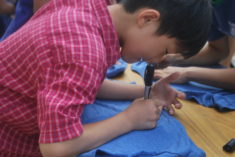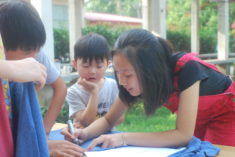 Joey on the left writing his name, while Emma helped Robby write his name on the right.
左边小宝在写自己的名字,及右可看到王子怡帮助明洋写名字。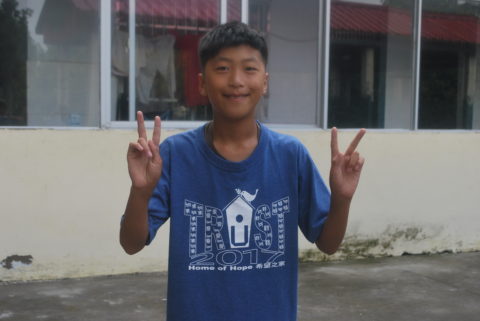 Thomas陈新元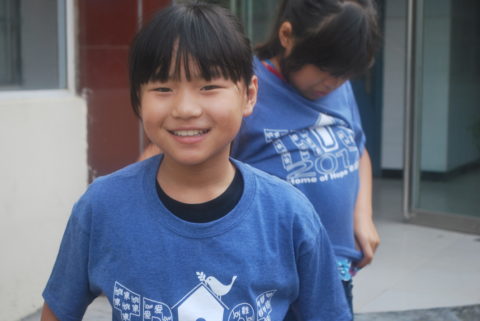 Kelly李佳曦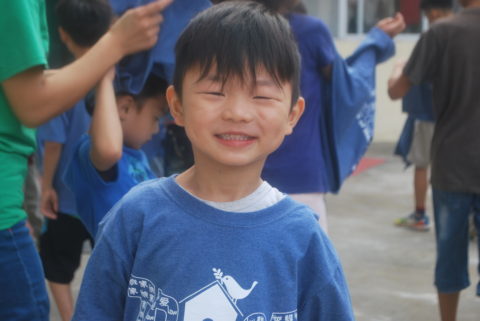 Robby李明洋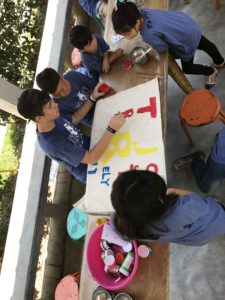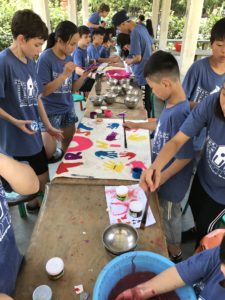 Trust Games信任游戏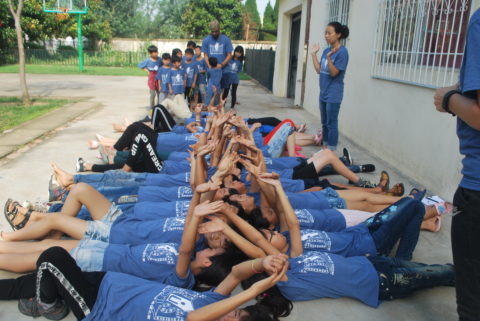 We played many different trust games that helped build TRUST and team building togetherness.
我们帮助孩子们玩了很多关于信任的游戏,让他们认识到信任和团队精神的重要性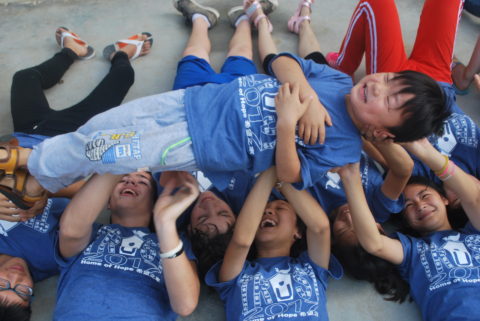 Robby李明洋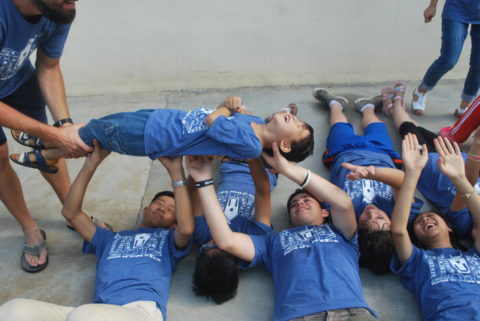 Davey冯金福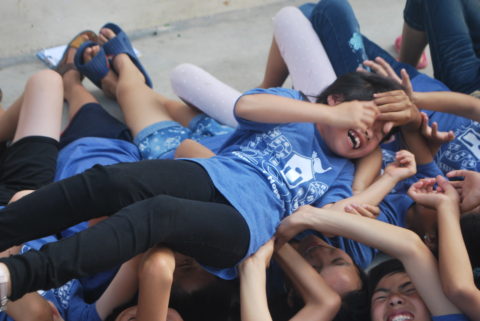 Catina冯秀云
Blind Fold Obstacle Course!摸瞎游戏!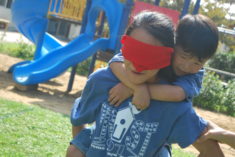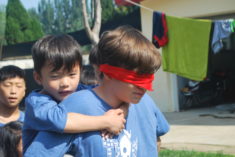 Ellie carried Davey while Eli carried Brendan. The younger kids had to tell the older brother and sisters where to go to teach that everyone needs to listen and trust, no matter what age they are.
冯智慧左背着金福和右以利亚背着俊祥。小孩子需要指挥大孩子们往哪个方向走,前面都有什么障碍,大孩子需要完全信任小孩子的指挥。
Trust Fall!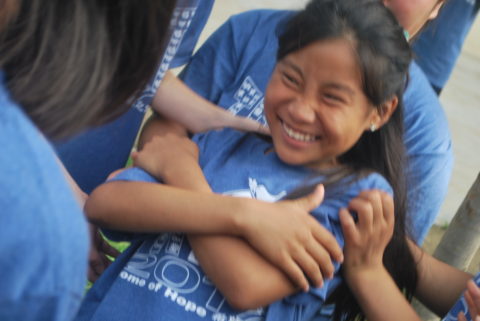 This trust fall game, we circled all the kids around one child. The child in the middle had to keep their feet in one spot, then fall into their team mates trusting that they would catch them. Crystal enjoyed this game!
这个Trust Fall游戏,我们让所有的孩子围成一个圈,中间的孩子需要在一个固定的地方,可以选择在任何地方倒下并且相信无论哪里都可以接住,不会让其倒在地上。奥珍非常享受这个游戏!
Knotty Hands!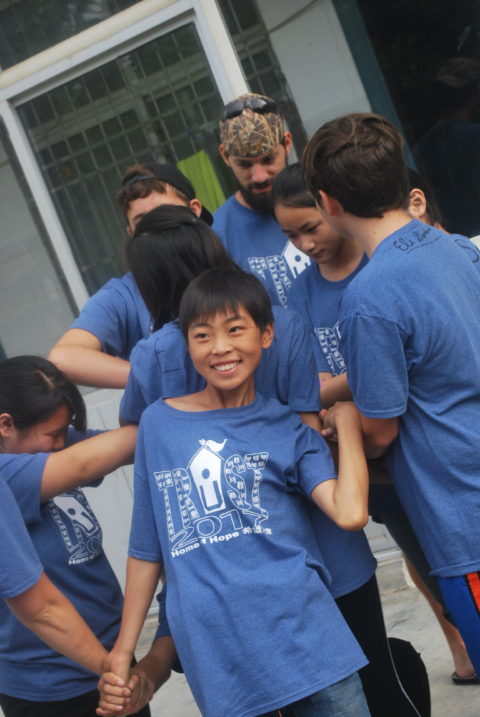 All the kids circled up and held someone else's hand. Then they had to untangle the knots to make one flowing circle. They had to trust that no one would let go of anyones hand and then, had to trust in everyones patience and obedience while the captains gave instructions to untangled them.
所有围起来的孩子需要随便找到一只手握住。大家需要合作把这个死结最大限度的打开的队赢得游戏,每个人需要互相信任自己的队友不会轻易放开对方,在队长指挥大家怎样做打开时每个人需要耐心和顺服队长的指挥。
Everyone in the Hula-Hoop!大家都进圈里!
The team had to stand behind a line and jump 1 meter into a Hula Hoop as you see Eli doing above. Then, try to get as many team mates in that hula hoop without touching the ground outside of the hula hoop.
队员需要站成一队,跳进呼啦圈里你可以从图中看到智慧在做。接着大家相继跳进去但脚不可以落地,进去的人越多越好。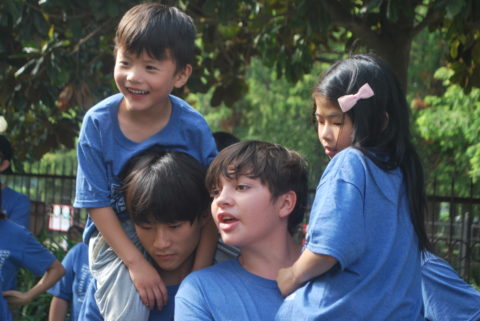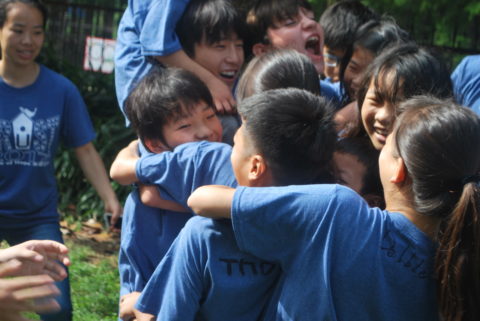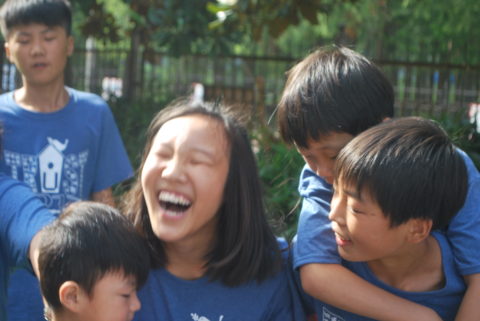 Carry the Councilor抬起顾问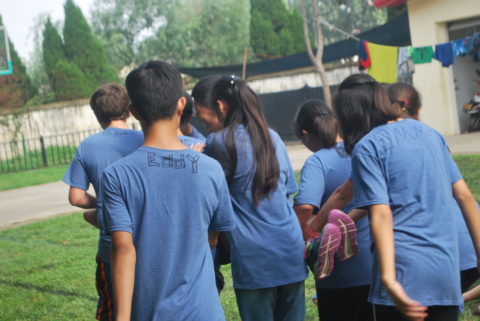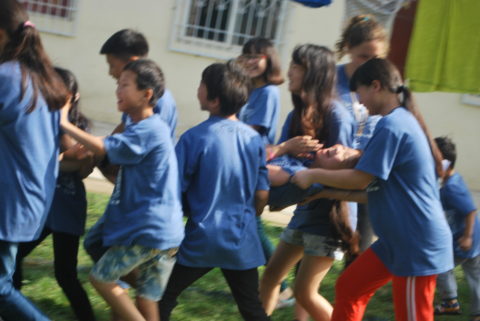 Peanut Butter and Jelly Sandwiches!花生酱和果酱三明治!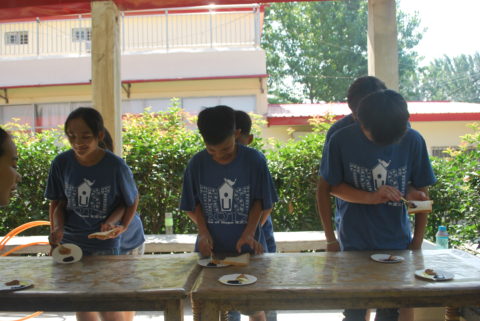 This game involved team work and trust. One person stood behind the other making and feeding them a peanut butter and jelly sandwich. Whoever was the first one done and the cleanest won the game!
这个游戏训练孩子们团队合作和信任。两人一前一后,前面的人不可用眼,后面的人只用手喂前面的人吃花生酱和果酱三明治。哪个队是最先吃完及最干净的那一个赢得游戏!
---
DAY 2第二天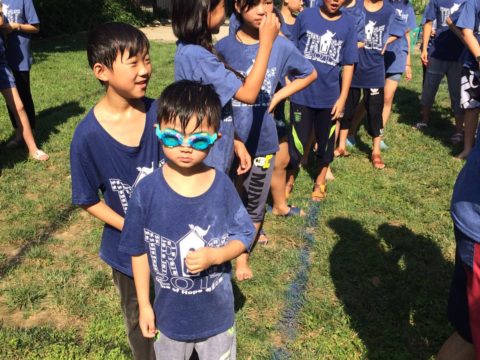 This was Robby's first camp, so when he heard we had a water day, he came ready to play!
这是明洋第一次参加夏令营,所以当听说玩水的一天,他是志气满满的!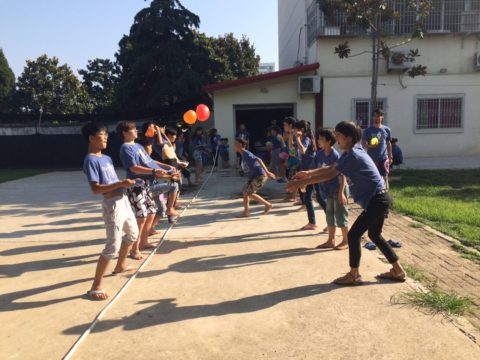 Our 2nd Day of camp is our water day. Pretty much the goal for this day is to get everyone as wet as possible…then throw one more balloon at them
just to make sure we did not miss anyone:)
We started off doing a balloon toss.
第二天。今天的目标是让所有的人尽可能的湿透、、、接着是扔水气球,不错过任何一个人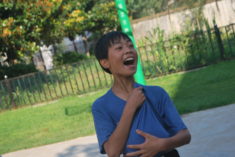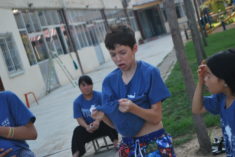 Lester(left) and Tyler(right) caught their balloon without it popping! Eddy's (below) last catch popped, but he won anyway!
接住气球,并且不破裂的情况下!郭新(下图)是留到最后的那一个,反正最后赢得了游戏!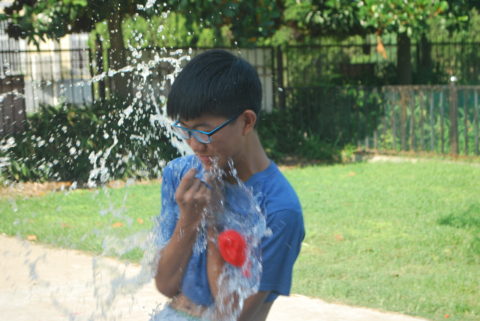 Hot Potato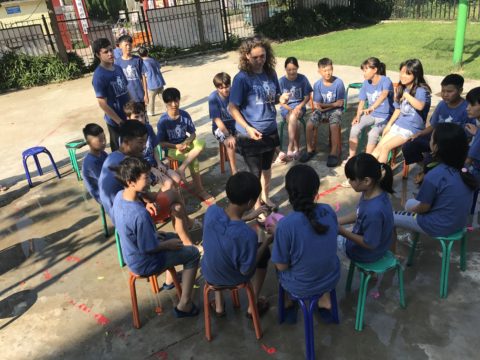 The kids pass the balloon until the music stops. If they were caught with the balloon…Uncle Hobbs (below) was blessed to be the one to pop a balloon over their head!孩子们互相传递水气球,直到音乐停止,谁手中有气球的人需要出来接受惩罚、、、Hobbs叔叔(下图)会祝福那个人在头顶上爆棚气球!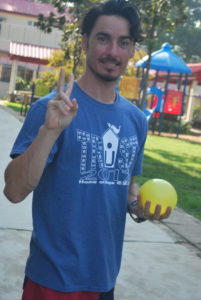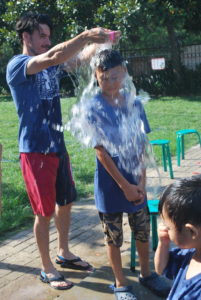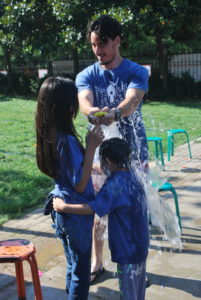 Left Gene got pretty wet. Crystal and Davey both were caught with the balloon, so they got to share the same balloon.
左面王子昂全身湿透了。宋奥珍和金福两个同时被抓到有气球,所以他们两个分享一个气球。
Musical Chairs听音乐抢凳子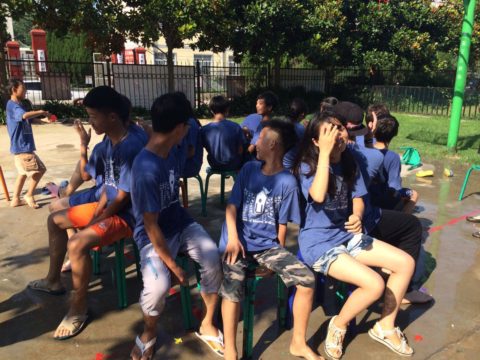 Same concept as Hot Potato, if you did not get a chair, you got a balloon popped over your head!
同样的概念烫手的山芋,如果抢不到凳子的人,需要在头上爆破一个气球!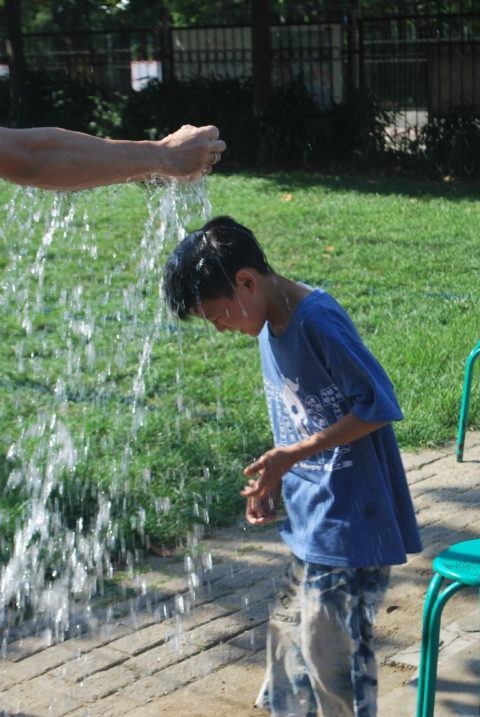 Patch刘银行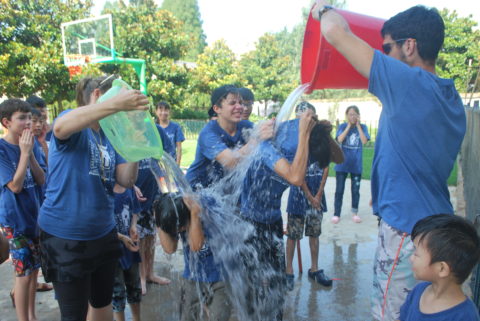 Joey on the left and Aaron, won the musical chair game, so we blessed them by dumping a bucket of water on their head.
左边小宝和双旭,赢得了音乐抢凳子的游戏,所以我们祝福他们一大盆水。
Buddy Relay Race传递比赛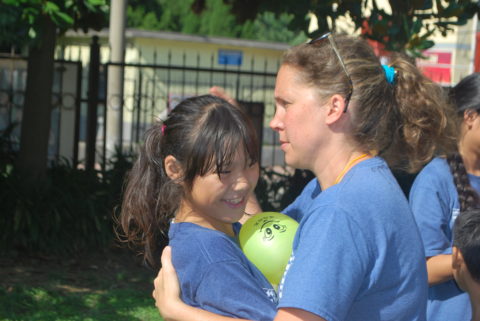 Two people grabbed a balloon and then had to walk it down to their team bucket and try to pop it without using their hands as you see Dana and Michelle doing above. Whoever had the most water in their bucket won.
两个人同时运送一个气球,送到指定的地方让后把气球里的水弄到盆子里,上图笑笑和杨舍。盆里水最多的那个队赢得胜利。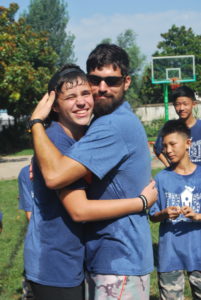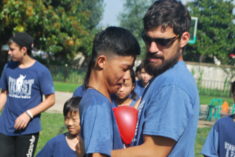 I helped two different teams. I went with our eldest son Jaxin on the left, and with our eldest Chinese son Gabe on the right.
我帮助了两个队。我和我们家的老大左边,和我们最大的中国孩子王呈龙右边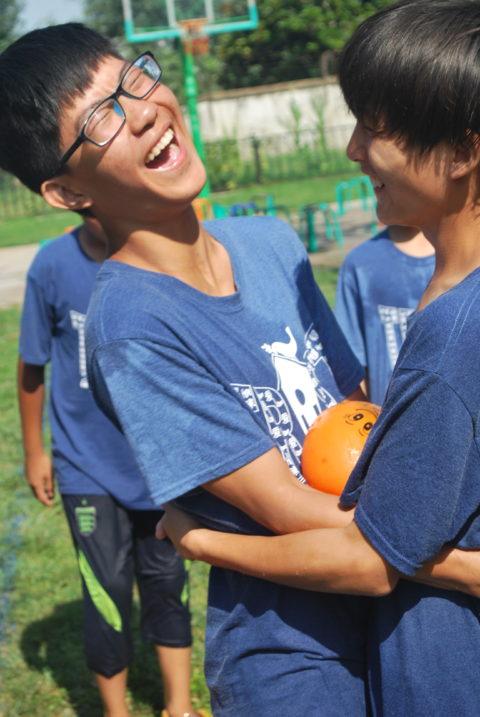 Eddy(left) and Aaron taking their turn and trying to be as manly as possible by not getting too close.
郭新(左)和孙双旭正在接续游戏尽量不靠近。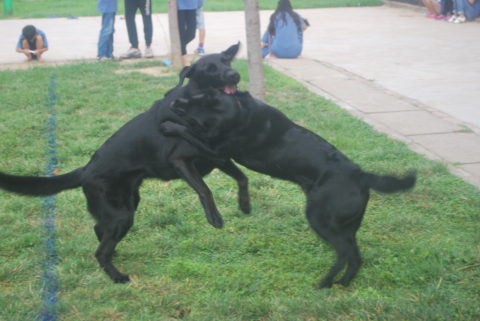 Bear and Princess also wanted to join in on the fun!
Bear和Princess两只狗也想加入游戏中!
Bobbing for Apples 咬苹果游戏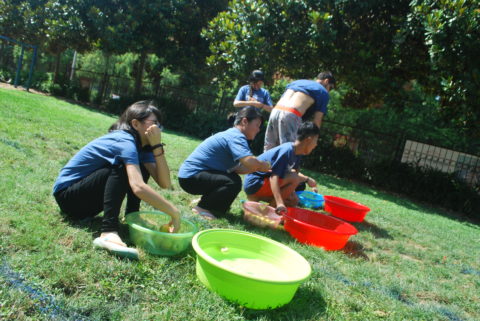 Our team councilors helped make sure everyone was safe and only going after one apple at a time!
团队顾问们需要帮助队员们一次一个人咬到一个苹果!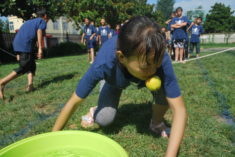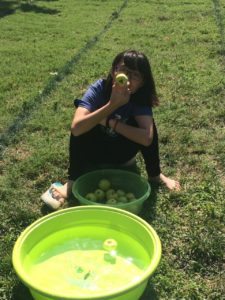 Debbie (left) getting her apple while Abby passed them out.郭倩(左)接她的苹果,冯静怡在发放。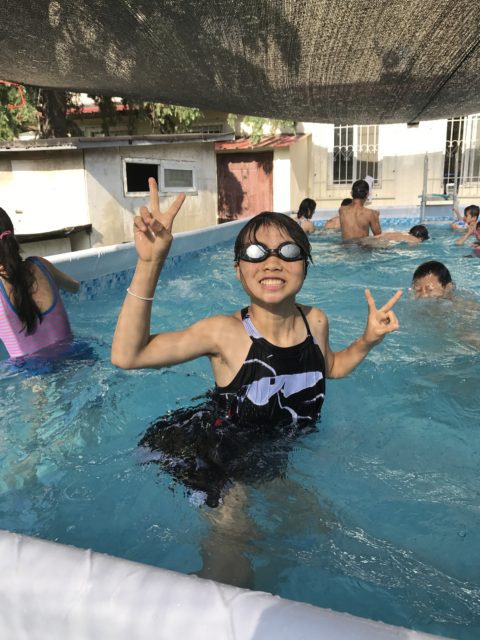 We either go to one of the other locations of the Home of Hope orphanages in Gongyi or Xuzhou, or they come to our place to play. This year, neither the Xuzhou nor the Gongyi Home of Hope could attend, so we used the extra funds to buy a swimming pool. This pool has a 10 year warranty and has already been well worth the cost. Anna was so full of joy to take her turn in the pool!
我们没去其他的希望之家,一个在巩义,一个在徐州。他们也没能来这里和我们一起夏令营,所以我们节省下来一些资金,买了一个游泳池。游泳池有十年质保,非常值得购买。王燕非常开心的去池里游泳!
---
DAY 3第三天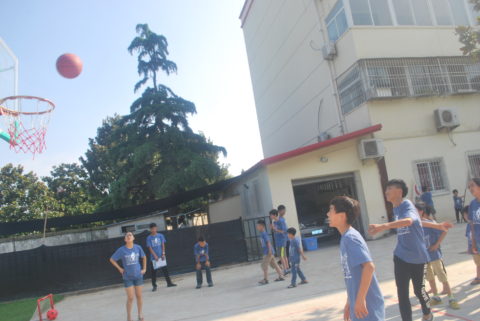 Day 3 was our Field Day. The kids had to do their best in several different activities to try to help their team win. Each person had to Trust and encourage everyone in their team to try their best to help the team win. They shot so many baskets as you see Frank doing above and shot so many goals as you see Tyler doing below.
第三天赛场的一天,孩子们需要尽自己最大的努力参与一些活动来帮助他们的团队赢得更多的分数。每个人需要相信和鼓励帮助自己的队友完成挑战。他们很多人在投篮球你可以看到朱雪峰(上图)和雅各(下图)在做的,挑战谁投的篮球最多。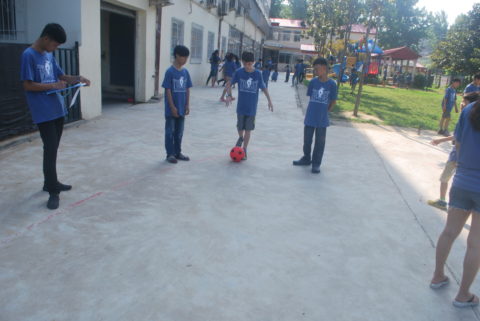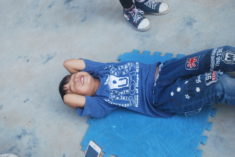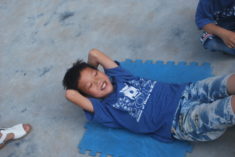 Davey (left) and Jake tied to get as many sit-ups as they could din 30 seconds.
金福(左)和大宝在极力做更多的仰卧起坐在30秒内。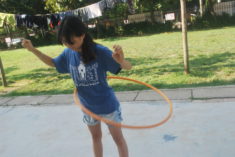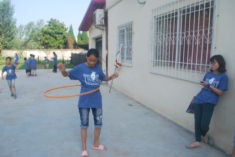 Anna(left) and Ellie tried to see how many times they could get the Hula Hoop to go around in 30 seconds.
王燕(左)和冯智慧仔30秒内尽可能的转呼啦圈。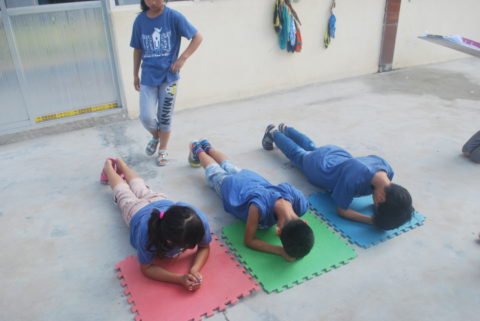 Dana, Danny and Frank competed how long they could plank for.
杨舍、新放和朱雪峰比较谁可以称床的时间长一点。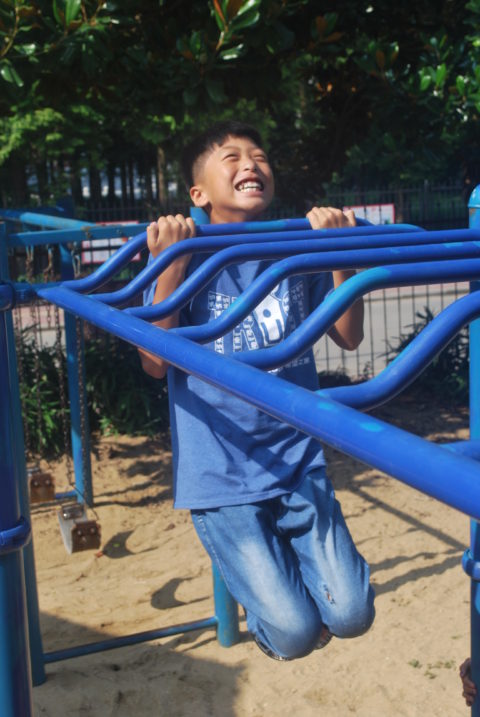 Thomas hung on as long as he could to earn as much points for his team!
陈新元在尽力的坚持时长,这样可以多少时长可以为团队赢得多少分数!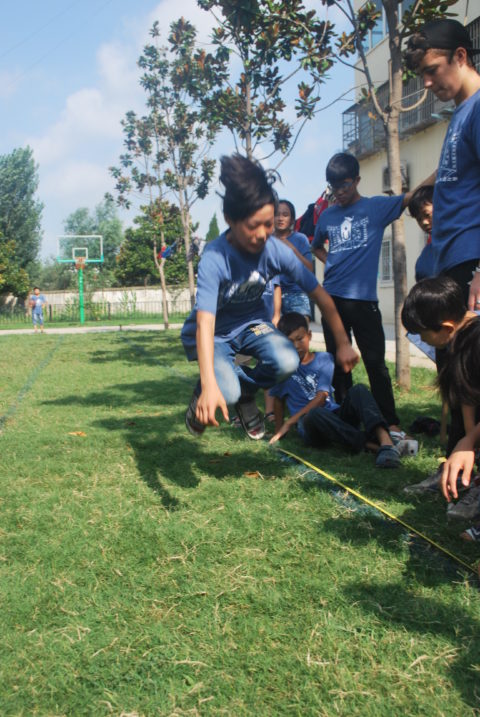 Frank jumped the longest out of everyone competing.
朱雪峰是在比赛中跳的最远的一个孩子。
Tug Of War拔河比赛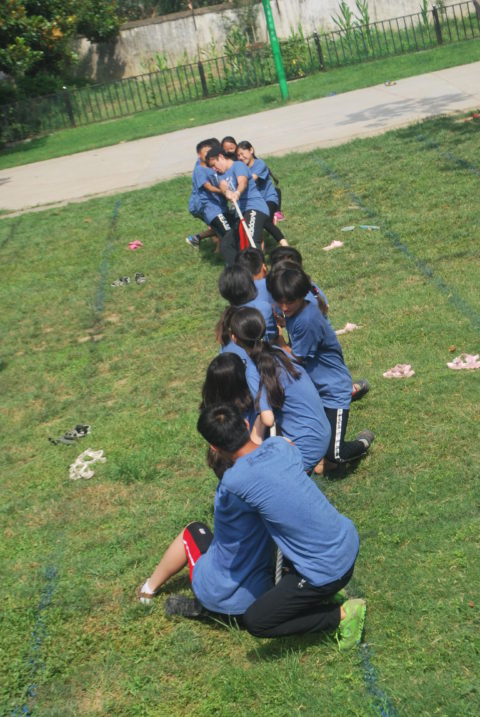 We had 3 big competitions that were team against team. The first was tug of war.
我们有三场大的比赛是需要队与队互相比赛的。第一场拔河比赛。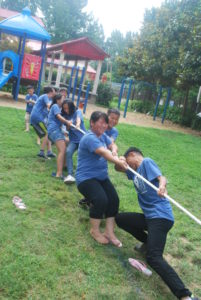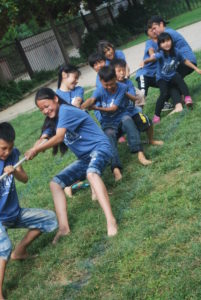 Ball Over the Head头顶传球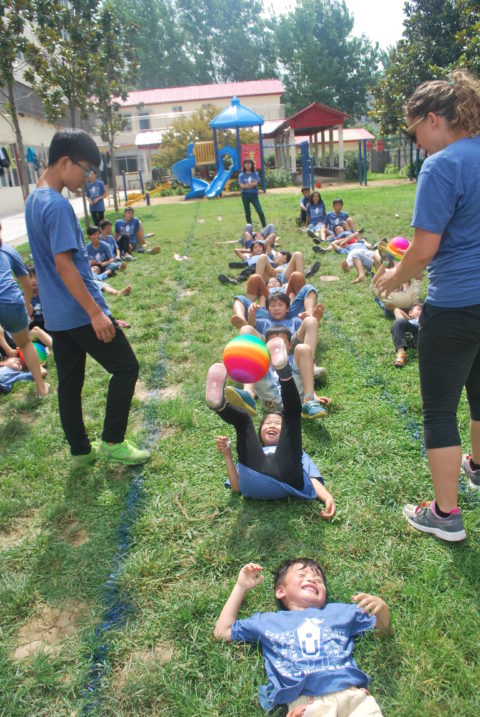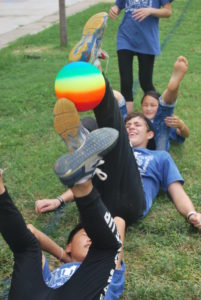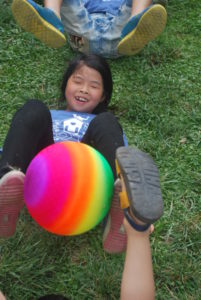 Jaxin and Catina getting the ball and passing it on to the next person in line!
杰克和秀云在向下一个人传球!
Dodgeball打球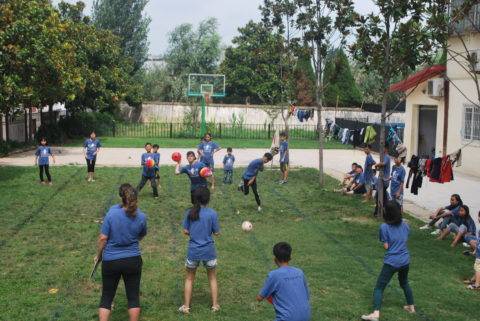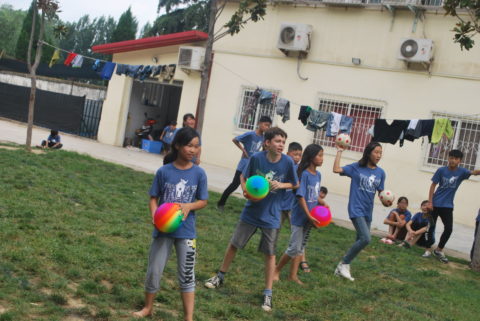 Craft手工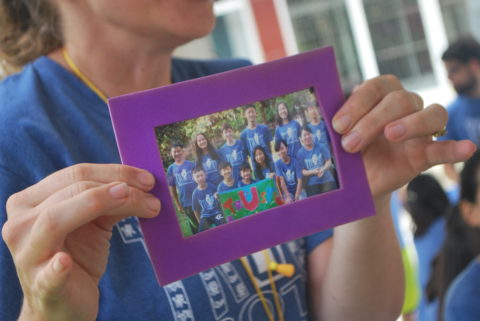 The craft for the day was making a photo frame for their team photo.
手工制作自己团队的相框。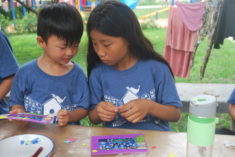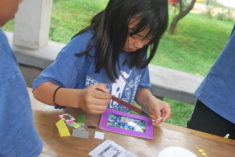 Crystal was helping Robby with his picture on the left and Kelly working hard on hers.
宋奥珍帮助明洋制作相框(左图)和李佳曦在和认真的制作自己的。
---
DAY 4第四天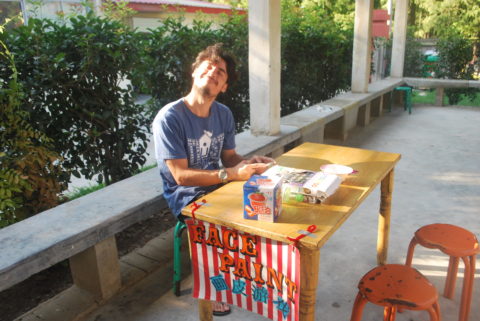 Our last day we call our Carnival Day. We set up a bunch of different booths and pass out tickets for the kids to go around and play at. They win different prizes, get their hair fixed or get their face painted like you see what Uncle Hobbs (above) did for Danny (below left) and Emma (below right).
夏令营的最后一天叫做我们的狂欢节。我们摆设的不同的摊位,接着发放票,孩子们可以自由的去到各个不同的摊位用票玩自己想玩的东西,然后会赢得一些奖品,头发造型或者画脸谱,你可以从Hobbs叔叔在对新放(下左)和王子怡(下右)做什么(上图)。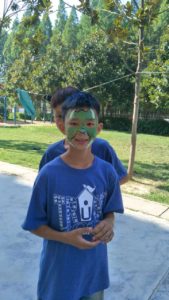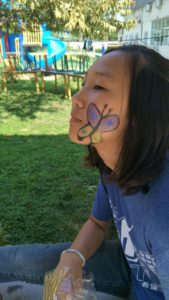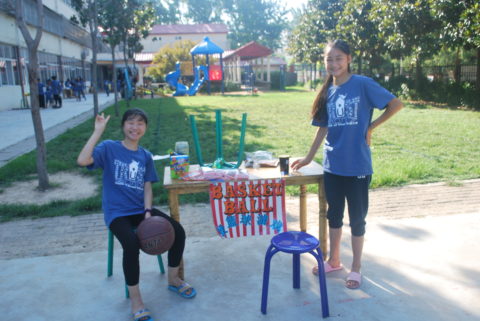 Sarah(left) worked the basketball booth while Ellie tried earning her prize!
在投篮球项目,智慧正在奋力拼搏赢得奖品!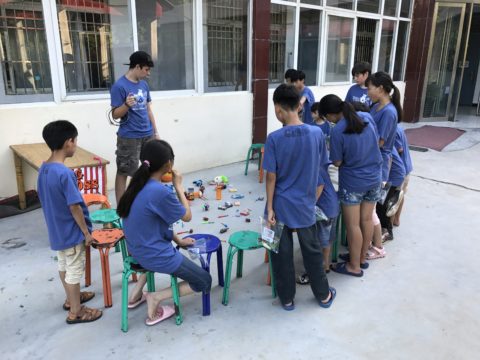 One of the more popular booths was the ring toss that Jaxin worked at.
其中一个最受欢迎的摊位,套圈圈;你可以看到杰克负责的。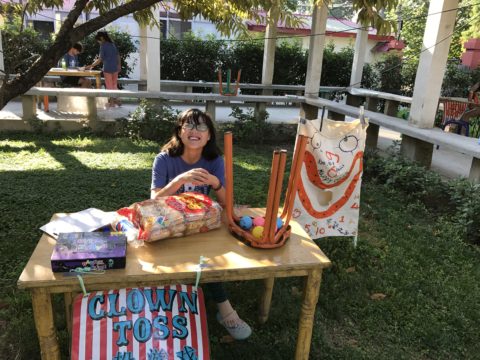 Abby enjoying the shade while waiting for someone to throw the ball at the clown!
冯静怡很享受在树荫下的感觉,同时等待有人过来玩她负责的投球的摊位!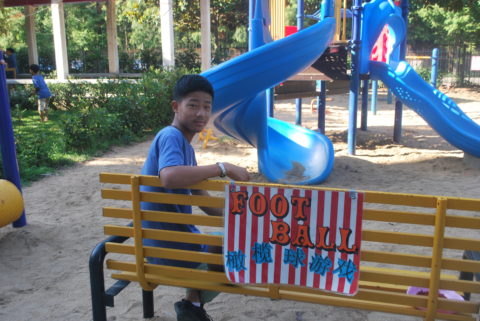 Gabe manned the football booth.王呈龙负责足球队项目。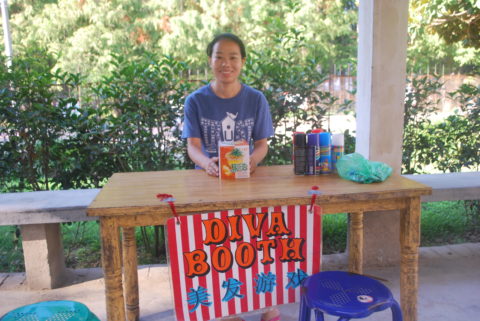 Jessica, our translator, worked the Diva booth. She fixed and colored the kids hair like you see her doing for Anna below.
王金华我们的翻译,负责美发的摊位,给孩子们头发造型和染颜色(下图)她在帮王燕做头发。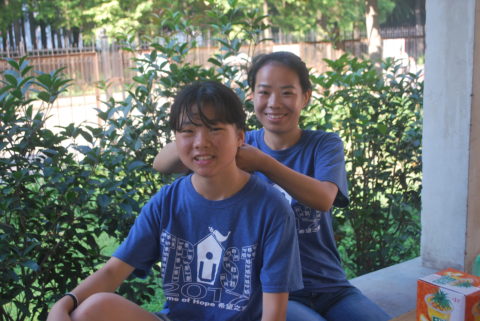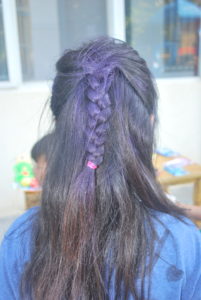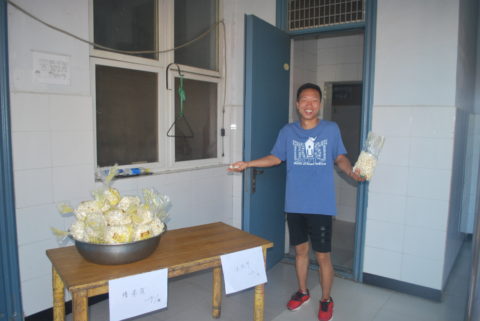 Matthew, our maintenance guy, worked the snack booth!
王兴,我们的修理员负责零食区域!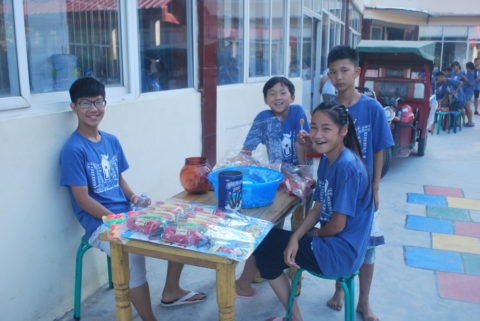 Another popular booth was the one Eddy worked. The goal was to see how many marbles you could grab with chopsticks in 30 seconds time. Ellie, Danny and Joey were trying their best to win the big prize.
另一个受欢迎的项目是郭新负责的,就是三十秒内你可以用筷子夹多少个玻璃球。智慧。新放和小宝在极力的取胜。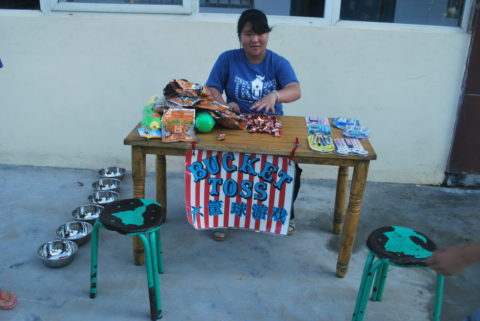 Hollie worked one of the most popular booths. You tossed a pingpong ball into a bucket, if you got a ball in each bucket, you won! Though everyone tried, no one won the BIG prize this year;
张广会负责的最受欢迎的项目,你将一个乒乓球投进盆里,如果每个盆里都有球,你就赢了!每个人都尝试过了,但是今年每一个人赢得大奖!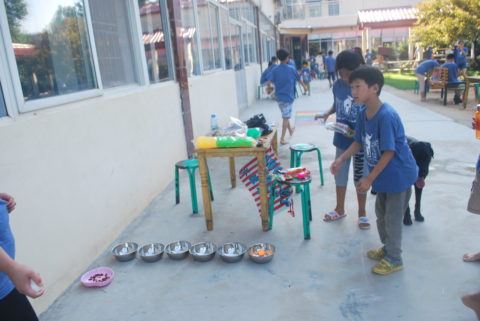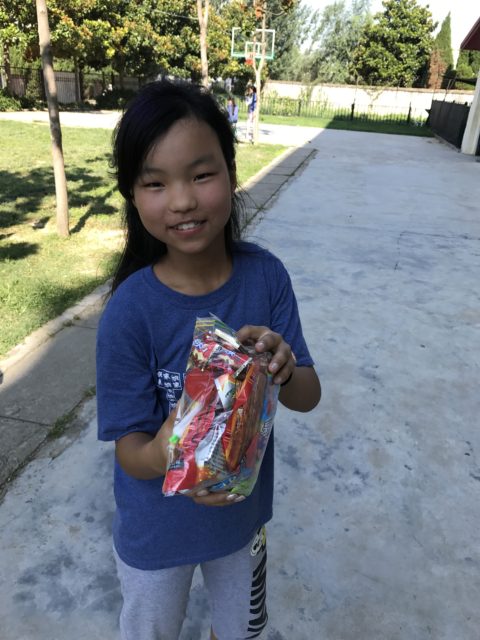 Tammy with her spoils!
李明杰赢得自己的最爱!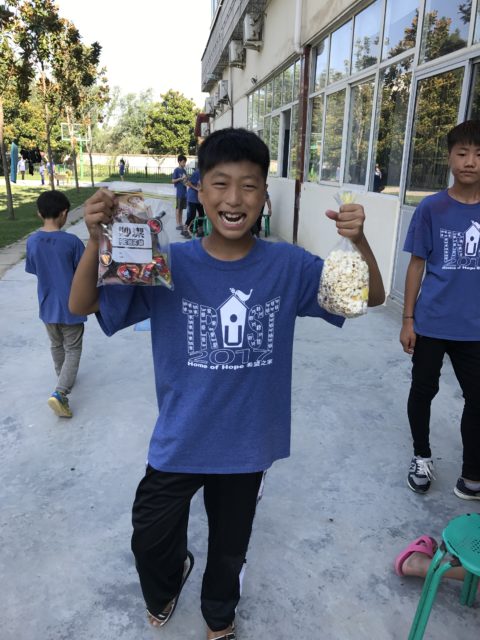 Thomas with his spoils!陈新元和他的最爱!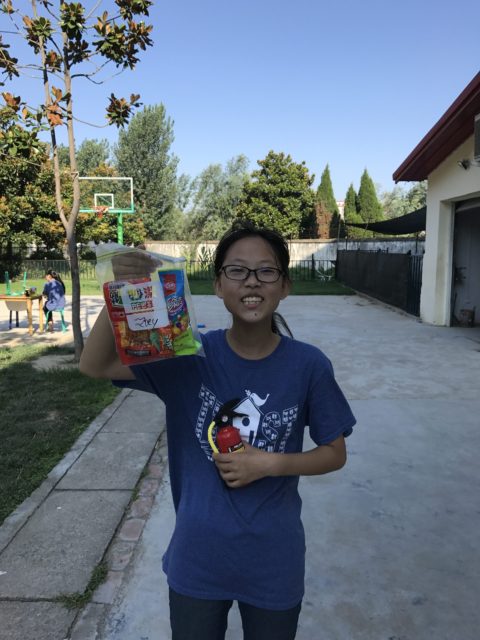 Zoey with her spoils!孟雨晴和她的奖品!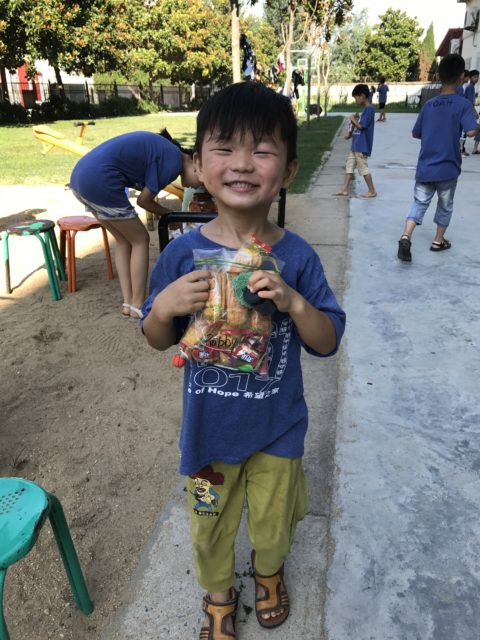 Robby with his spoils!李明洋和他的最爱!
---
PARTY NIGHT!!!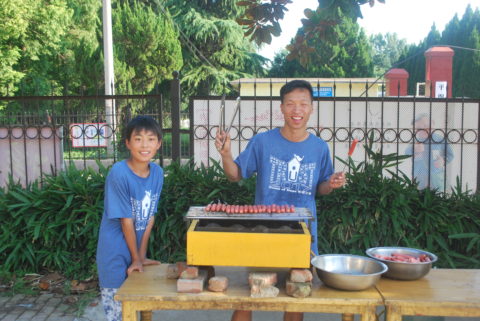 At the end of each Summer Camp we have a BBQ, talent show and dance. Matthew and Lester helped BBQ the hotdogs. Then all the older kids passed out the other food to everyone. One thing nice about this is that our kids get to serve our housemothers(pictured below)!
夏令营的最后,会有烧烤和晚餐,才艺表演和跳舞。王兴和孙李帮助准备烧烤的东西。所有的大孩子们帮助分发食物,最欣慰的孩子们也服务了我们的阿姨(下图)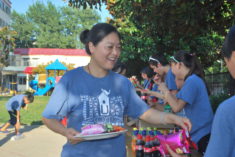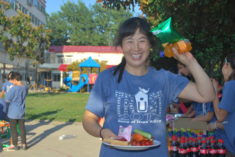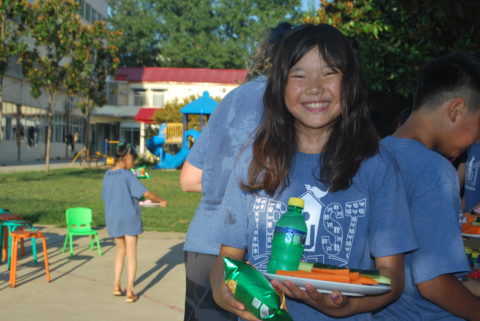 Dana胡杨舍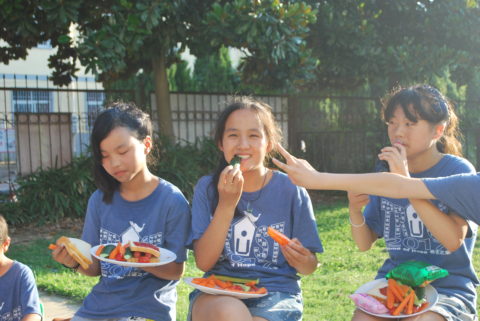 Tammy, Becca and Anna.李明杰、孙芳芳和王燕。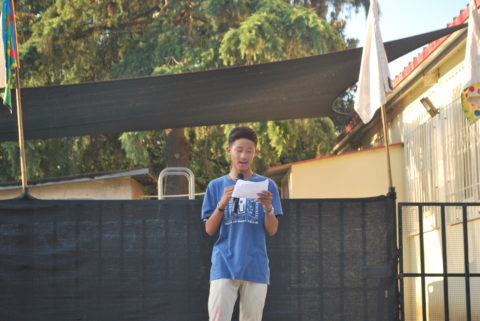 Gabe was the host for the evening and did a fantastic job!
王呈龙是今年晚会的主持人,主持得非常棒!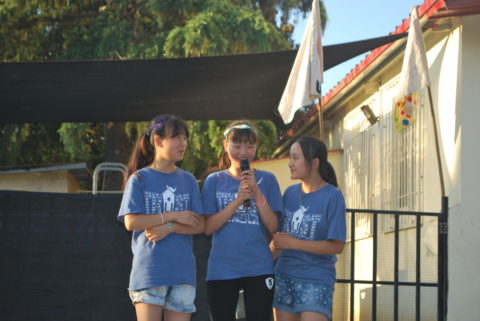 For the talent show, we had some singing like you see Anna, Debbie and Becca doing above and Robby and Brendan doing below
才艺表演,一些孩子唱歌:王燕、郭倩和芳芳及明洋和俊祥(下图)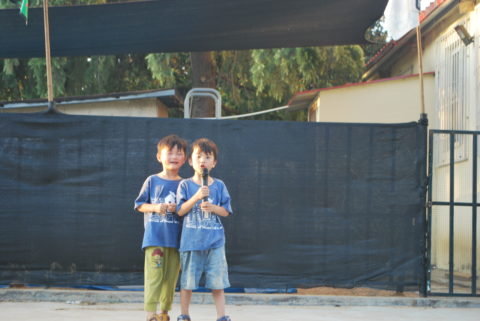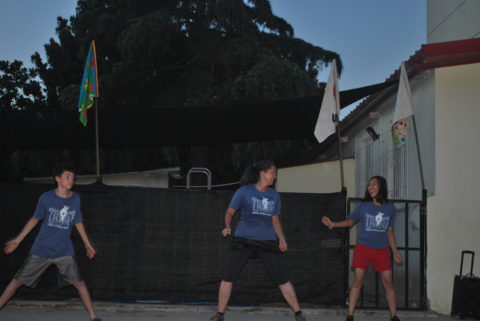 Some danced as you see Tyler, Mommy and Emma doing here.
一些跳舞你可以看到雅各、笑笑和王子怡。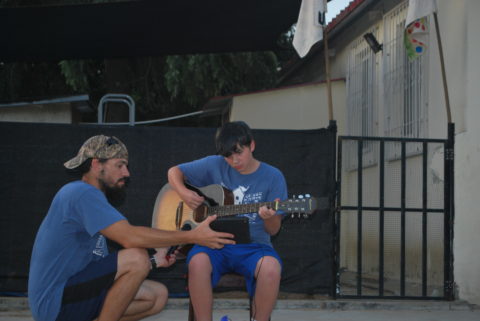 Eli played a song on his guitar!以利亚弹吉他!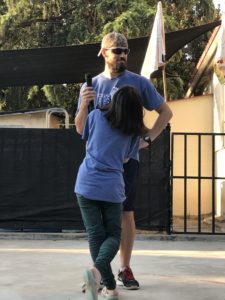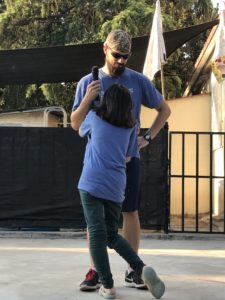 Abby tried showing her talent of being cute to talk to her Daddy to get her way:)
冯静怡想利用装可爱这项才艺取得Daddy的信任,得到自己的想要的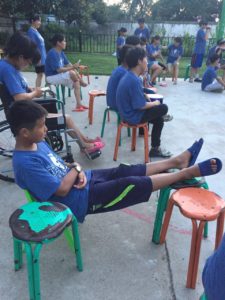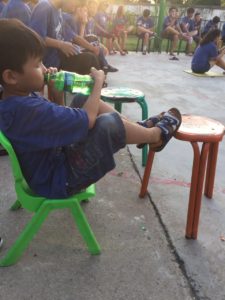 While some showed off their talents, others just kicked back and enjoyed the show as you see Chris (left) and Davey doing!一些孩子在表演才艺的同时,其他的孩子在很享受的欣赏表演(左)张广振和冯金福!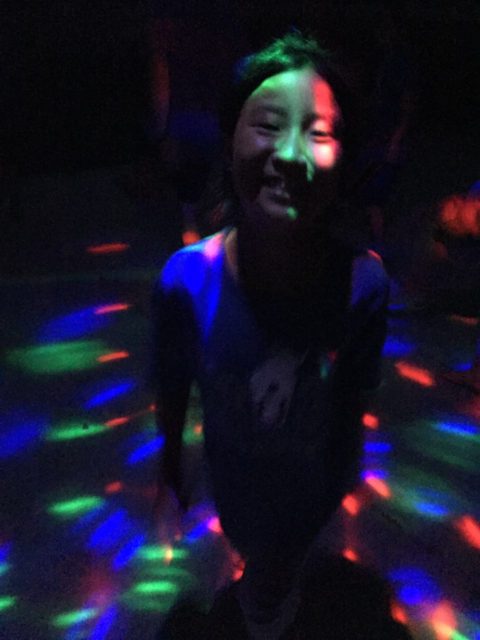 Then, after everyone ate and showed off their talent, we pulled out the spot light and danced late into the night…or until 9pm:) Crystal is pictured above and Becca is pictured below接着,才艺晚会结束,我们换上了的闪光灯,开始了夜晚的跳舞会、、、到晚9点宋奥珍上图和孙芳芳下图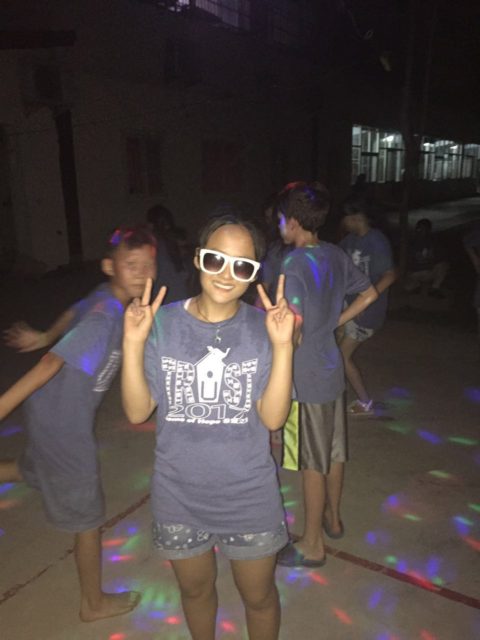 ---
We thank you for taking the time to check out our summer camp pictures. We know it was long but we hope it was well worth it to you. Thank you for the continued support in helping us reach out and spread love, hope and joy to our big happy family! Below please see our greatest need we have right now.
我们感谢大家花时间浏览我们的网站。可能时间久了点儿,但是绝对值得。感谢大家的支持及分享给我们的爱,盼望和喜乐!下面是我们的所面临的情况。
Blessings
Ben and Michelle
---
Lift Us Up为我们祈祷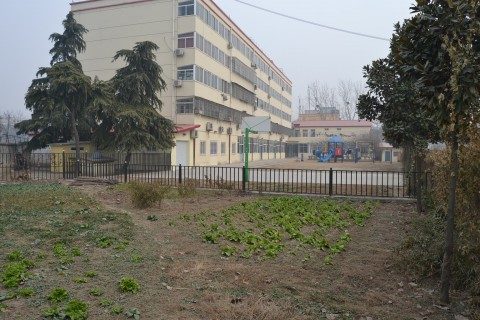 The town of Pingyu wants to become a city. There are several steps that they have to do for this to happen. One of those steps is beautifying our city. One of the beautification steps is redoing the river walkway (pictured above) and enlarging the current lake that sits right behind our home. The bad news about this, is that they will be relocating the families around the lake and tearing down their homes. This was not the Christmas cheer we wanted to hear or ever expected to hear. We have had several meetings with the civil affairs and mayor, who are looking for land for us to buy. Below are some drawings from our kids. When our son Eli heard the news, he drew the bottom picture with all the kids. Anna drew the other picture a few years ago when we finished the construction of our new girls wing to our building. Please keep us and all the other families being relocated in your thoughts. The government has guaranteed us that we will be able to buy 1.66 acres but with the New Year holiday just ending they can't say exactly where for sure. They did say that they will have everything settled and all the permits and fees ready for us to start building this coming July 1st. They also said that we will have the normal 70 year contract that everyone else has when buying land in China. Please lift us up with this, we need to raise 2 million USD to buy and build.
平舆县进行县城规划。规划的完成需要几步工作;其一城市美化工程。整修沿河两岸的人行道(如上所示)和我们居住房屋后面的小湖。坏的消息是,湖周围的住户需要搬迁。这不是圣诞节时我们想听到的消息。我们面见了政府领导好几次,寻找新的场地。下面是孩子们的作品。当我们的儿子以利亚听说了这个消息后,下面的画是他和孩子们一起画的。王燕几年前画的,是在我们女孩的寝室刚建完时的。请求为我们不住的祈祷。政府承诺会给我们找到9亩左右的土地,在刚刚结束的春节假期细节问题还没有具体确定下来。他们承诺尽量在7月1号前把所有的建筑许可手续完成。还承诺说用地期限合同是70年之久,像其他的中国人一样。请求帮助我们,我需要筹集资金2百万美元用于买地和建房。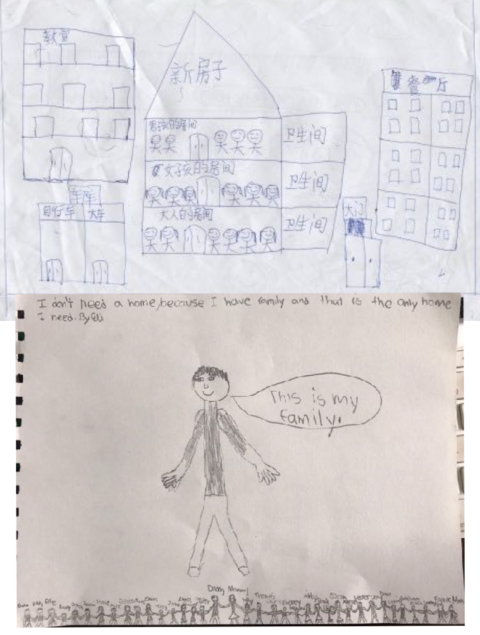 Posted: July 15th, 2017 under Uncategorized.
Comments: none